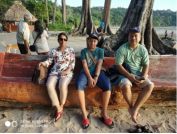 Date: 12-Dec-2019
Dear Devendra,
Let me thank you on behalf of my family for arranging this Andaman tour. Obviously, this was not our first tour with you, the memories of earlier tour though long back had raised some expectation from you and as usual you exceeded our expectation. Throughout the tour though in a group we never felt that we were left alone or neglected. The tour was well organized and executed as per the itinerary. There were no chaos or exertion every minute care was taken to look after our comfort, it could be the hotel rooms, the quality of food, the transportation nowhere it was compromised. Arranging a separate vehicle just to carry our luggage so that we can travel comfortably is just another example.
Other than the site seeing I will remember those game we played in late evening for which you had even arranged for prices for the winners.
When it comes to Andaman the first thing which come to our mind is the cellular jail and Swatantrya Veer Savarkar. The best part about this tour was the way you explained the purpose of visiting this historic memorial and not just this the cherry on the cake was the interaction we had with Ms Manjiri Marathe which increased our knowledge about Swatantrya Veer Savarkar to next level. This definitely increased our perception about the freedom fighter and their sufferings in jail, there was a different feeling then when we visited the memorial. I am confident that all of us including the young generation in our group has something to learn from this tour other than site seeing. I am sure that no other tour operator will ever give in-depth information about cellular jail and Swatantrya veer Savarkar the way you have done it.
I wish Himashree tour all the best for their next upcoming trips. Looking to join you soon for another destination.
Best Regards
Amit Rane